History of Our Club
The German Shorthaired Pointer Club of Manitoba was recognized by the CKC in 1980. Through the years, the club has hosted many events, such as field trials, sanction matches and specialty shows for German Shorthaired Pointers.

The GSP Club of Manitoba has been very active in past years, however, with the passing of Doug Harper in 1999, things have been at a relative standstill.

A group of Brandon members have formed a working executive to reactivate the club and continue the work of promoting our breed.



Objects and Affiliation
The objects of the club are to encourage the training of German Shorthaired Pointers and to promote the breed as a whole. The club will work in co-operation with the National Breed Club, the C.K.C., and may affiliate itself with organizations devoted to the aims and objects of the club.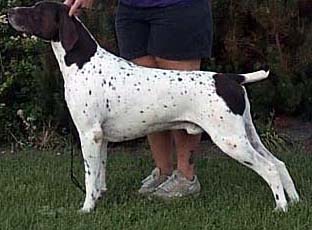 Ch. Darkmoon's Ice Breaker Fdj



Our Club Officers
Executive Members are:
President:
Coleen McKellar


Vice President:
Renee Will


Secretary:
Kathy McKinnon
Treasurer:
Flo Tellier


Other members include: Karen Thorpe, Tom Will and Sherri Wells.
At the Show
Am/Can. Ch. Darkmoon Cool Hand Luke Am/Can. CD Fdj