This is a busy page.... Sanction Match, world famous Fish Tank Table of Chance, and GSP exhibitors "get together"..... wow, what a weekend!!!
How could anyone not take part in this??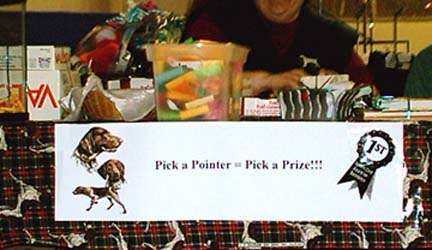 Prizes galore!!
World Famous Fish Tank Table of Chance..... what a way to win!!
Everyone is excited.....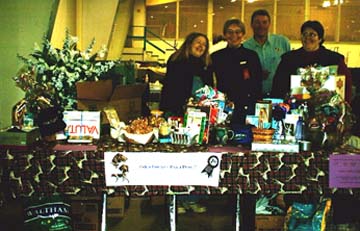 it's booster day!!!
The "World Famous Fish Tank Table of Chance" was a great way to get people involved with fund raising for the GSP Club. Our members canvassed the local area for prizes to be won at our table. There were 38 prizes in all... some big and some small, but all were donated by local businesses and doggy friends.
We would like to thank everyone for making the table a great success.
We would especially like to thank Sherri and her mom for manning the table all morning so that the rest of us could show our dogs..... thanks again!!
2003 GSP Booster
The class dogs were ready....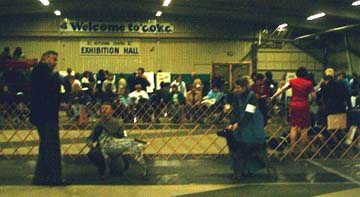 The competition was tough......
we had lots of specials entered!!!
Saturday, February 22nd was the date of the GSP booster. The judge for the event was James Reynolds. There was a nice variety of GSP's entered and we even had four specials in the ring. That's really great to see at a local show. We're hoping to revive interest in the breed in Manitoba and having the home town show dogs out in the rings is a great way to do it. There were entries from Alberta, Saskatchewan and Manitoba, so the prairies were well represented.
Best of Breed/Best Puppy in Group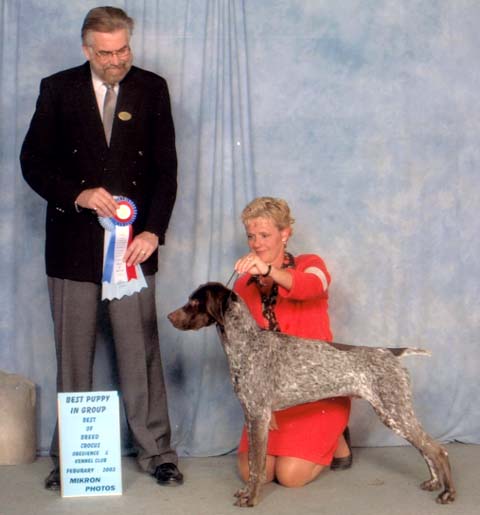 Shotshell Ikon of the Hunt
Get Together Evening
There was lots of conversation!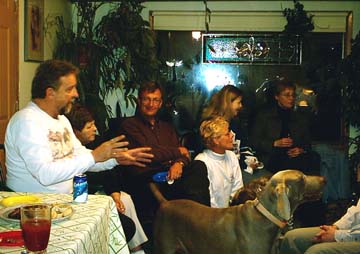 An evening of food and refreshments was offered to all who participated in the booster at the Crocus show as well as a few honored guests. Our guests included the two judges from the sanction match as well as a few "out of towners" who were staying at the president's house.
There was lots of laughter and conversation as well as some serious talk about hunting with GSP's.
As the saying goes, " a good time was had by all".
How did those Weimaraners get in???