There will be a very nice panel of judges for the specialty and the rest of the shows. MCA is a chance at 5 sets of points in 4 days, so that is a real draw for our American friends, as well as those people from out of province.
The judging panel has been approved:
GSPCC National Specialty Show judge
Esther Joseph, Australia
Sweepstakes judge
Michelle Czebotarenku, Winnipeg
Obedience judge
Shirley Hubenig
Booster judge (conformation)
Tom Alexander
Booster judge (obedience)
Bruce Fraser
Click here for the trophy donations flyer. You can pick the class that you might like to sponsor.
The specialty will be held on Saturday, August 7th, 2004. The show will be outdoors and everyone can have their own day tent set up at ringside... very nice for a long day of watching GSP's strut their stuff!
There will be a lunch provided at the specialty, as well as raffles and photo contest judging. The "World Famous Fish Tank Table of Chance" will be set up in the hospitality tent along with the photo contest entries. Prizes will also be displayed.
An evening banquet (Autentic German buffet... to go with the German dogs....) will complete the day where the ring markers and other associated GSP items will be auctioned/raffled off. We will also announce the winner of our photo contest at that time.
Hope to see you there!
Check out the National Specialty logo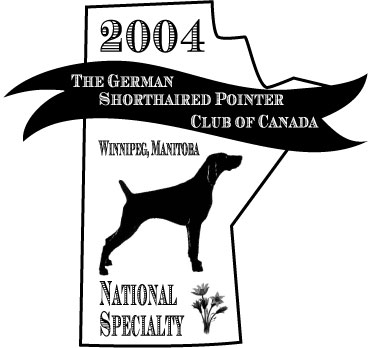 Design by: CPRSS Commercial Art
Just to let you know.... we've commmissioned a local artisan, Shirley Lloyd Davies to design a "German Shorthaired Pointer series" for us to use as prizes for the national.
Shirley's work can be seen all over North America, and she is now starting to market some of her works in Europe. There will be a complete biography on her and her work in the national specialty catalog.
Shirley and her husband, Kelly, work in wood and metal (sculptures and other artworks). Their retail store "Dundee Designs" is located in Alexander, Manitoba.